REACH Delivery - Select Required Administrator
If an administrator has not been assigned for a user then as part of the "Manage your public data" menu option you can assign any user with an administrator role as the administrator for a user.
Simply select the required user, using the list provided and click

.
Please note that you cannot assign the user to be their own administrator. If you try to do this then the following error message is displayed: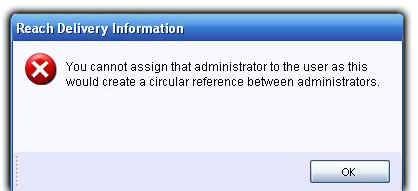 If you get this error then either a) select an alternative user as the administrator or b) use the
icon to exit from the modify user screen without saving the changes.