REACH Delivery - Change Password
The change password function, accessed from the "Options & Settings" menu, allows a user to reset their password to a different password and offers the following screen: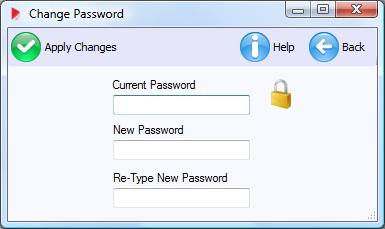 To change the password you will need to enter the current password plus the new password. You must also re-type the new password to make sure that there was not an inadvertent typo/spelling mistake in the enter of the new password.
Clicking the 'Apply Changes' icon will reset the password on this account to the new password.
Please note: passwords must be at least 6 characters in length and can contain any letter, number or symbol. Passwords are case sensitive.
Click the 'Back' icon to exit from this screen and return to the previous screen.