REACH Delivery - Manage Internal Users
This is an Administrator only function available from the "Administrator Functions" menu.
The manage points of contact function allows you to add or modify the internal users for your organisation in the REACH Delivery system.
On the screen below you can either:
1. Search for an existing point of contact using the find button and then double click on the users name in the display box "points of contact meeting search criteria OR
2. Add a new point of contact (user) using the

icon.
Search for a user and modify their user details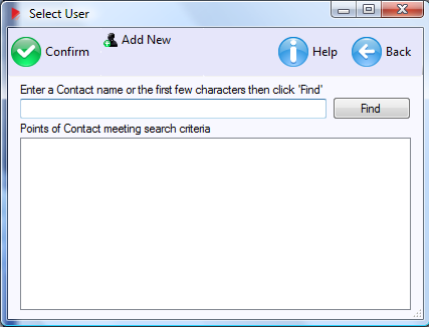 Modify Point of Contact
When you double click on a user name to modify the user record for a Point of Contact (user) then the administrator has the same functionality to amend a point of contact (user) records as the point of contact has themselves in the manage your public data function on the option menu.
When you add a new point of contact then a new screen (as shown below) will be opened. If you are adding a new 'Point of Contact' to an existing company, then select the company using the 'Find' functionality. However if you are adding a new Company to the system, then just enter the company name in the "Destination Company" field without clicking the 'Find' button.
Please note: If you do not have file sending capabilities (associated with your REACH Delivery login) then you will ONLY be able to add new points of contact within your own company.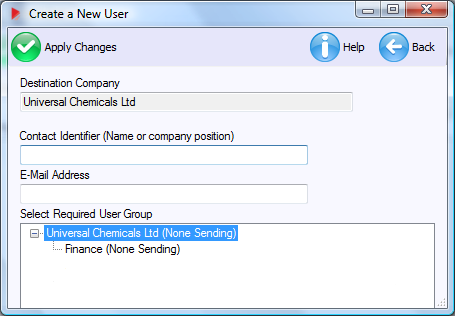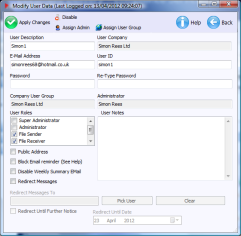 NOTE: This function is an administrator only function and therefore if you are adding a user within your own company the REACH Delivery system will assume that you are the administrator for that user. For security purposes, the new user will be pointed back to you to get their username and password which you will be able to set up by using the "find" feature of manage points of contact (see description above) and then double-clicking on the user name to bring up the "Modify User Data" screen for the new user (shown here).
You can see on the screen their userid and are also able to enter the initial password that you would like the new user to have.
When you have added the information requested simply click the

icon to save the changes and create the new point of contact (user)
What do the symbols mean? (click on the icon or the link to jump to information on that subject))

Add Point of Contact